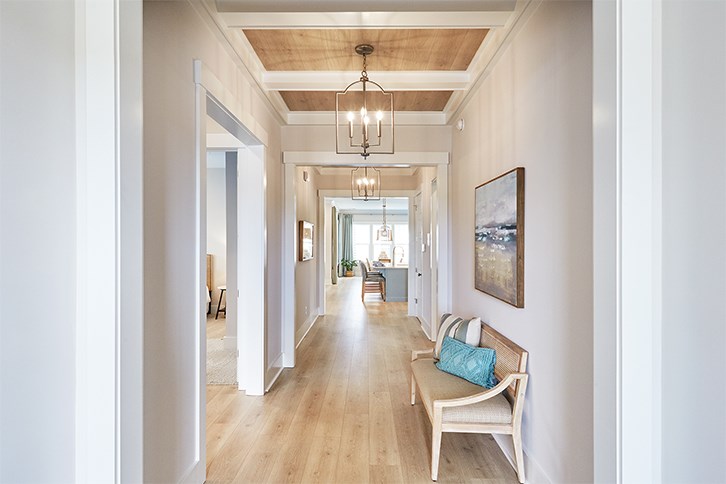 NEW YEAR, NEW HOME: WHY BUY NEW AT NEXTON?
Looking for a fresh start in 2023? Kick off the New Year with a brand new home at Nexton. 
We know how intimidating choosing to make the transition to a new place can be. Among the first of your decisions: new construction, quick move-in, or an older home? Whether you go for an inventory home or build your home from the ground up, buying new construction has many perks. Let's talk about just a few.  
Personalize Your Perfect Floor Plan
When you build a new home at Nexton, you'll have over 200 floor plans to start from. From there, the number of customizations and options are nearly endless. With new construction, you can choose the finishes, colors, and appliances that are ideal for your family's needs – not someone else's. Want your spare room to be a bedroom or a home office? Prefer a garden tub over a standing shower? Do you need mood-boosting colors on your walls or something more soothing and subdued? Many of the builders at Nexton offer upgrades and add-ons like shiplap accent walls, unique countertops, or floor plan adjustments to make your our living space just right. Your home is your castle – it should reflect your style!
Designed with Innovation and Modern Living in Mind
Modern living is at the heart of Nexton's new homes. You'll find the latest design styles and features like high ceilings, open-concept floor plans, and walk-in closets that you just won't see in older homes. New construction also integrates the latest and most cutting-edge technology. Nexton remains the most technologically advanced community in the Charleston region, bringing fully redundant fiber (more stylishly dubbed GigiFi) to every premise in the community. What does that mean exactly? Access to the fastest internet in the state at your fingertips, and we're talking 100 times faster than the average speed fast! Plus, because our new construction homes are made with the most innovative technology, they're engineered to require less maintenance. Nexton's latest features and designs mean less time worrying and more time enjoying your new home.  
Better For You and the Environment
Energy efficiency and safety features are advancing, and our builders are dedicated to providing you with the latest in building tech. And with rising energy costs, achieving maximum energy efficiency is more important than ever. Our newly constructed homes are held to the strictest green building standards in five different categories: energy efficiency, healthy indoor air quality, resource efficiency, environmental responsibility, and water conservation. Of course, you could always retrofit an older home with energy-efficient conveniences like high-performance windows, high-efficiency HVAC systems, and Energy Star-qualified appliances, but who has the time for that? With new construction, all of that is built-in – and then some. Your newly built, energy-efficient home will bring you more comfort, all while helping to lower your energy bills by reducing your home's energy consumption. Better for you, your family, and the planet!
Convenience and Comfort of New
Another perk of buying a new construction home is that everything is, well, brand-new. From the roof to the water heater, there will be no wear or tear in sight! This can save you a considerable amount compared to a previously-owned home, where key systems may need to be replaced soon. It's no secret that resale homes can come with hidden problems, from roof issues to old plumbing. By buying new, you can be assured your home is built with the most up-to-date features. No fretting over costly repairs and renovations anytime soon. Aside from monetary costs, it's important to consider the time and effort that such renovations require and the convenience of having a move-in ready home. Plus, a variety of warranties protect different zones of your new home, from the structure itself down to the appliances. The peace of mind and comfort that comes with brand-new everything? Priceless. 
Choose new for your peace of mind
From personalizing your home just the way you like it, to enjoying the security of a warranty, there are a number of benefits to buying new construction. Oh, and how could we forget… that new home smell! Get a jump on the housing market, save money, and feel at ease when designing your new home here in our best-selling community. With nine esteemed builders, twenty-one fully furnished model homes, and countless ways to inspire you, Nexton makes the perfect place for a fresh start. 
If you're ready to begin shopping for a new home, visit our virtual tour site or explore our model homes and homebuilders now!