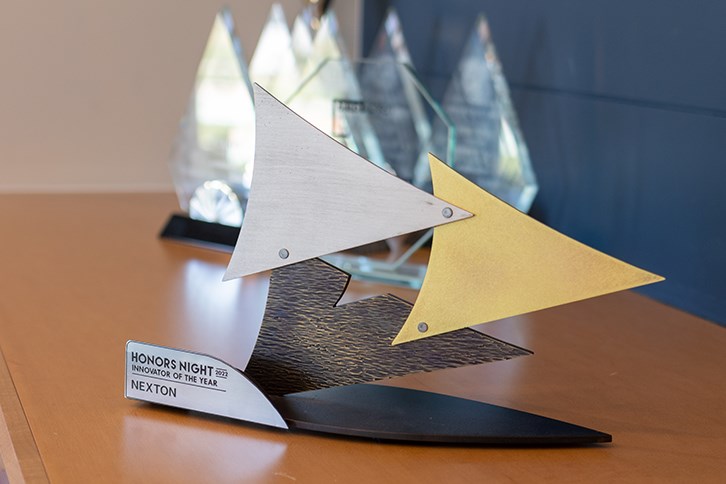 Nexton wins Innovator of the Year
There's that word again. Innovator. Innovating. Innovative. But here's what we want you to know: at Nexton, it's not just a buzzword. It's a driving force. A unifying agenda. It's a call to action that we're always, always working towards. 
That's because the best places are always evolving. Finding fresh inspiration. Responding to the market. Growing with the greater region. We started concepting Nexton more than 12 years ago with a series of community meetings to hear what would add the most value to this corner of Berkeley County, and our ears remain open. We're continuing the conversations we started. Through chance meetings at neighborhood gatherings. More formal meetings with town representatives. And yes, on social media. (We hear you, and we're listening!)
"When we started, it was with a pretty simple goal: build an environment and community that responded to the way people lived today. And hopefully create a place that improves people's quality of life," Nexton's VP Brent Gibadlo recently told the Charleston Metro Chamber. 
Embracing innovation and new ideas became key to reaching our goal, Brent continued. 
"Innovation is a guiding principle at Nexton, and we are constantly looking for ways in which we can build and improve on industry norms to provide the best possible resources for our community to thrive," Nexon's Marketing Director Cassie Cataline recently echoed. "Nexton is committed to being the region's top choice to live and work, and providing the most innovative and forward-thinking office spaces, home designs, parks and commercial offerings play a large part in this role."
Innovations big and small
How about some specifics? Some of Nexton's innovations are small and not so obvious - like utilizing LED technology in our streetlights. And some are more involved and well known - like Nexton's title as the first Gigabit community to emerge in South Carolina. By the way, today, our homes and businesses can utilize up to 10 gigs per second. 
There's also a lot in between. One innovation became extra apparent during the most recent hurricane to blow through the southeast. As heavy rained whipped in, the ponds throughout the community took on several feet of water. And that's by design: our holistic stormwater management system is designed to accommodate 100-year flood level waters. Levels can be lowered in advance of a storm to allow for even more capacity. A few hours after Ian moved inland? Ponds were back to pre-storm levels and homes and streets safe from dangerous flooding.
Our commitment to innovation extends into homes, too. We work with our builders and a third-party certification system to ensure the homes in our neighborhoods feature the latest in energy-efficient heating and cooling, so owners can save money every month and help preserve our natural resources for future generations.
The strong mixed-use core of Nexton is also a bit of an innovation, speaking from a land-planning perspective. The variety of home types and wide range of uses - and the way each is woven throughout Nexton's 5,000+ acres - creates a place that's more convenient, more diverse, and more attractive to world-class retailers and restaurants. 
Nexton named Innovator of the Year by Charleston Chamber of Commerce
We've added a few very cool feathers to our cap this year, but this one feels extra special. Probably because it comes from Charleston Metro Chamber of Commerce, an organization with a 245+ year legacy of strengthening the Charleston area.
The Chamber awards Innovator of the Year in recognition of a business that has created a cutting-edge product or service impacting their industry or someone that has grown or reshaped their business in a significant and meaningful way.
We're honored to be recognized for consistently setting the industry standard for community and home design. You can hear more about what the award means to us here. 
Thanks again to the chamber and all of the partners that have made Nexton Innovator of the Year.