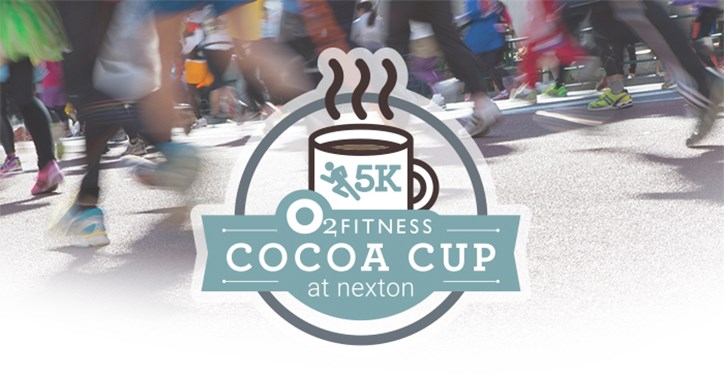 NEXTON HOSTS 4TH ANNUAL COCOA CUP 5K SPONSORED BY O2 FITNESS
Nexton, a master planned community located in Summerville, South Carolina, is honored to host the 4th Annual Cocoa Cup 5K on Saturday, December 16, 2017 starting at 9 a.m. Presented by Fleet Feet Sports and sponsored by O2 Fitness, this year's event will draw over 2,000 participants for an exciting holiday-themed 5K race and holiday celebration.
The Cocoa Cup 5K event consists of a 5K race as well as a one-mile kids fun run for children under the age of 12, both taking place along a scenic route in Nexton. At the finish line, participants are invited to stick around for a post-race holiday celebration and awards ceremony. The after-party includes music and holiday-themed activities, vendors and of course, delicious hot cocoa.
"The Cocoa Cup 5K is one of our favorite events of the year to host because it mirrors the spirit of Nexton from healthy living to community bonding, all wrapped with the excitement of the season," says Cassie Cataline, marketing director for Nexton. "We are thrilled to welcome O2 Fitness as the main sponsor for the 2017 race and thankful to Fleet Feet Sports for managing the event."
Each overall winner will receive a grand prize gift basket and individual prizes will be awarded to the top three finishers in each age and gender category. Each child under 12 who participates in the one-mile kids fun run will receive a finishers medal. 
To register for the Cocoa Cup 5K, visit www.nexton.com/cocoacup. Advance registration is mandatory and is $35 per person for the 5K which includes a Nike hooded sweatshirt and cocoa mug. The one-mile fun run is free, but requires advance registration. Proceeds from the Cocoa Cup 5K will benefit the Lowcountry Food Bank.
The Nexton community is owned by a business entity of North America Sekisui House, LLC (NASH), and is being developed by Newland Real Estate Group, LLC. NASH and Newland share a deep commitment to sustainable development practices and apply these core values to the vision, planning, and development of their projects. Nexton is one of more than 30 assets the NASH-Newland partnership owns and manages together across the US.
About Nexton
Nexton, located in the heart of Charleston's vibrant growth corridor, is a 5,000-acre mixed-use community features three housing villages: Brighton Park Village, North Creek Village and Del Webb® at Nexton that have homes ranging from the $200,000s to the $500,000s. Upon completion, Nexton is planned to have 6,500 single family homes and additional multifamily. Nexton is where innovation is fueled by South Carolina's first community-wide, gigabit broadband service. Nexton will continue to grow, but today is a complete community where you can live, work, eat and shop all within walking or biking distance from your front door. Nexton is being developed by Newland Communities, the largest private developer of planned residential and urban mixed-use communities in the United States.                                                                       
###
Editorial Contacts:
Cassie Cataline, ccataline@newlandco.com, (cell): 843-708-8504