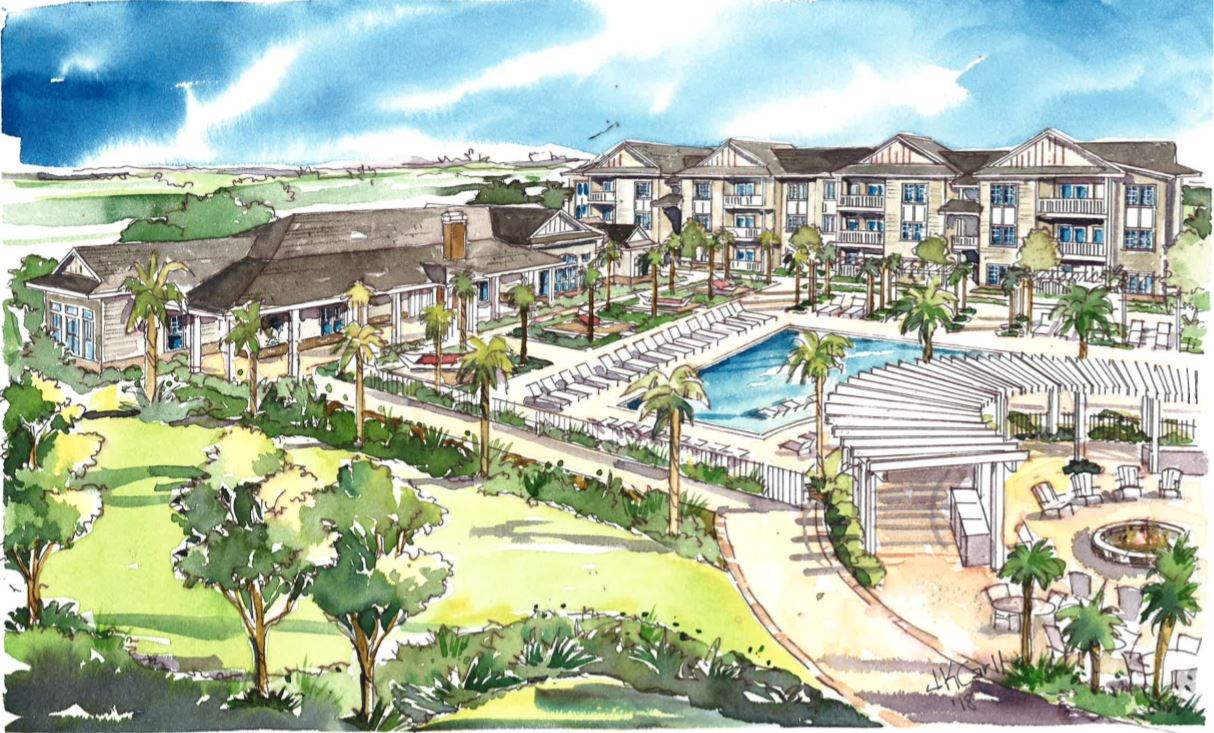 Growth and New Jobs in Berkeley County Spur New Apartments in Nexton
SUMMERVILLE, S.C. – April 02, 2019 – Since the 2018 opening of Nexton Parkway, Nexton has been at the forefront of business development in Berkeley County. Over the last three years, the area has become one the fastest growing counties in the state, touting a labor force that exceeds 110,000. These statistics – provided by the United States Census Bureau – highlight the ongoing need for development and infrastructure in the growing Summerville area.
Considered a major job center in the Charleston Metro Area, Nexton has developed the road network, housing, and amenities needed to accommodate new residents in Berkeley County. The newest addition to the residential portfolio is the 264-apartment community, Arrogate Village. The property – developed by Applegate & Co and managed by Greystar – features 1, 2, and 3-bedroom apartments with wood plank-style flooring, custom cabinetry, walk-in closets, and spacious balconies. Amenities include a saltwater pool, fitness studio, outdoor kitchen, fire pit, and swinging daybeds as well as a car wash, pet wash, package center, and a complimentary coffee bar.
"Arrogate Village provides a sense of community to those not ready to purchase a home or that want the flexibility of a lease," says property manager, Tracy King. "The community offers easy access to I-26 and major employers such as Mercedes Benz and Boeing; It's also a quick commute via 176 for those working at Volvo."
All residents of Nexton have access to 10 miles of existing walking and biking trails that connect homes, parks, and offices to Nexton Square, a destination shopping and dining experience opening in June.
"Achieving sustainable economic growth in our region requires us to offer a variety of housing choices that appeal to workers and employers alike," explains Brent Gibadlo, vice president and general manager of Nexton.
Nexton is owned by a business entity of North America Sekisui House, LLC (NASH), and is being developed by Newland. NASH and Newland share a deep commitment to sustainable development practices and apply these core values to the vision, planning, and development of their projects. Nexton is one of more than 30 assets the NASH-Newland partnership owns and manages together across the US.
For more information about Nexton, visit the Greeting House at 106 Greeting House Road, Summerville, South Carolina 29486 or check out www.nexton.com.
About Nexton
Nexton, located in the heart of Charleston's vibrant growth corridor, is a 5,000-acre mixed-use community features three housing villages: Brighton Park Village, North Creek Village and Del Webb® at Nexton that have homes ranging from the $200,000s to the $500,000s. Upon completion, Nexton is planned to have 6,500 single family homes and additional multifamily. Nexton is where innovation is fueled by South Carolina's first community-wide, gigabit broadband service. Nexton will continue to grow, but today is a complete community where you can live, work, eat and shop all within walking or biking distance from your front door.                           
###
Editorial Contacts:
Cassie Cataline, ccataline@newlandco.com, (cell): 843-708-8504