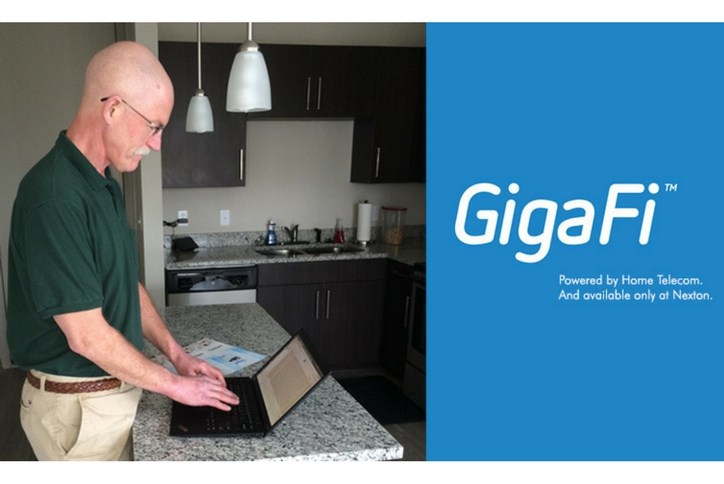 The Lowcountry's First Gigabit Customer
Access to GigaFi, the fastest Internet connection in the Charleston region, is the reason the veteran of Home Telecom chose Nexton for his home.

Earlier this week Patrick Archibald, Information Services Manager for Home Telecom, received the green light to move into his brand new apartment at the Parks at Nexton.
"I'm excited to be the first resident in the Parks at Nexton and thrilled to be the first Lowcountry gigabit customer," he says. "I'll have extremely fast Internet uploads and downloads for when I work from there or from home."
Archibald is very familiar with Nexton. Not only will he be the first resident to move into the Parks, his employer, Home Telecom, was chosen as our technology partner. Together, Nexton and Home Telecom created GigaFi, making Nexton South Carolina's first gigabit community where every business, school and home can access the internet at speeds of one gigabit per second.
Another advantage to living at the Parks at Nexton is its close proximity to work, saving Archibald 25 minutes on his commute. "I wanted to live in a place where I can ride my bike as much as possible. Not only on the nature trails, but when I shop, go out to eat, and go to the grocery store."
The 52-year old lifelong resident of the Tri-County area has been an employee of Home Telecom since 1982. "I started when there were 62 employees and we only provided Telephone services and a few Cable TV channels in select areas. Now we have a staff of nearly 200 and provide Telephone, Video, Internet, Security and Wireless services to 20,000+ customers."
Home Telecom has a 111-year history in Moncks Corner, starting in 1904 with six phones and a dream.
The folks at the Parks at Nexton and Home Telecom are planning a red carpet welcome for Archibald to celebrate the first resident of their luxury apartments, and Patrick's status as the first GigaFi customer.