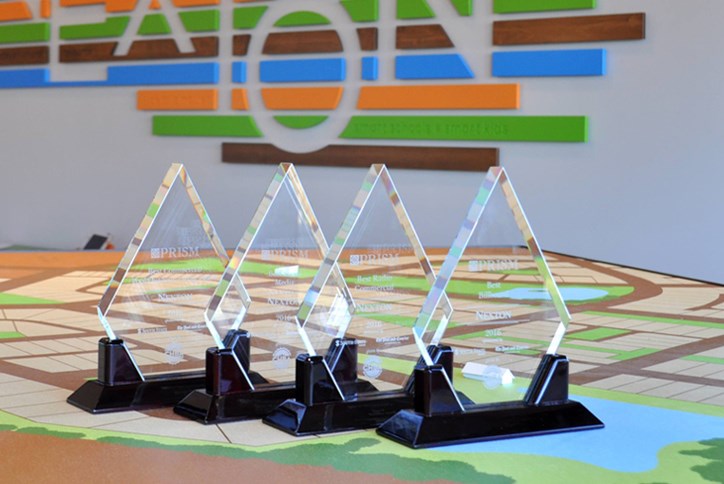 Nexton recognized for excellence in marketing, design, and technology by Charleston Home Builders Association
We are tickled pink to share that our fabulous marketing team has been recognized by the Charleston Home Builders Association for our work in marketing, design, and technology.  These awards include Best Brochure, Best Print Campaign and most notably, Best Website and Best Social Media. Held on November 5, 2018, the 30th annual PRISM Awards was a gathering of the best home builders and industry professionals in the Charleston region. We were thrilled to see our builder partners recognized as well!
So, what makes our efforts special? In short, you! Our website and social media channels allow us to connect with the Nexton community as well as the greater Charleston region. We love curating content about fresh new homes, innovative design, and the Nexton lifestyle and sharing with you. We're also able to build support for events such as Commit to be Fit, Work Outside Day, and the Cocoa Cup 5k, all events we credit with fostering a sense of community within Nexton and beyond.
We have to give quick props to our partners, as always. We couldn't do it without Strada Advertising, 90 Octane, The Brandon Agency, and Cove Creative Studio. Thanks for helping Nexton employ a cutting-edge digital platform that reaches potential homebuyers and employers around the globe, as well as our supportive Summerville community.
Cheers!
Since 1959, the CHBA has served as the leading non-profit organization dedicated to the future of the Lowcountry, encouraging growth and development within four counties – Charleston, Dorchester, Berkeley and Colleton. The CHBA works with organizations to promote and protect homeownership. We're honored to be recognized by them.