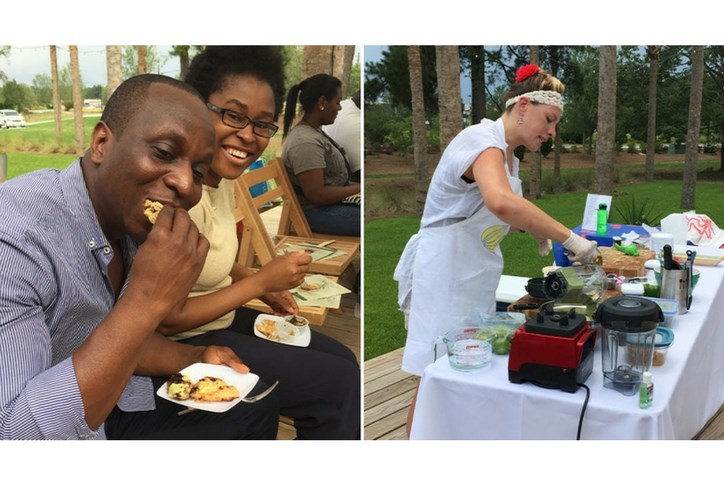 A Healthy Picnic on the Porch
It was a festive scene on June 28th at Nexton. Decked in blue and white gingham, American flags and red, white and blue décor galore, the Front Porch was the ideal setting for learning how to put a fresh twist on this year's July 4th cookout by using healthier alternatives of classic picnic favorites.
After mixing, mingling and cooling off with an Independence day-themed beverage, visitors settled in to watch cooking demos from some of the region's best chefs.
Allen Welch of Trinity Catering grilled up entrees that put a spin on traditional dishes. The turkey burgers with avocado cream sauce were a hit! Livia Kulczycky with Vidalia Vegetarian whipped up fresh, easy side dishes packed with flavor and nutrition. Her tomatillo gazpacho is perfect for these warm Lowcountry evenings.
The way we see it, you're never too young to learn about healthy eating! After donning aprons and chef hats, we had the kiddos channeling their inner chefs by creating fruit kabobs and edible flag snacks for everyone to enjoy.
Stay tuned in to our Facebook page for updates on our Front Porch events. We look forward to seeing you!