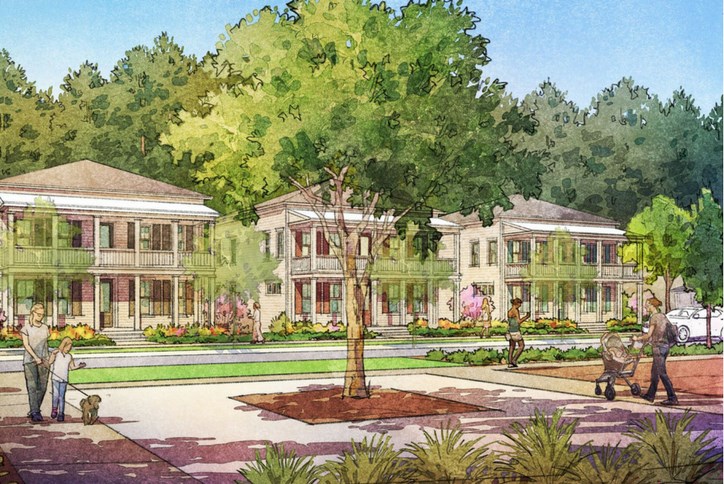 Creating special places at Nexton
At Nexton, good design is how we care for people. It's how we bring value and joy to the lives of the people living here. It's how we make 1+1 equal 3, or even 4 or 5. From the designs of our parks, trails and green spaces to the way homes relate to the larger environment that surrounds them. Everything has been considered, from the bigger picture down to the details. Perhaps, especially the details.
We've taken cues from some of the most celebrated cities in the nation, and even the world. Places like San Francisco, with its charming and eclectic rowhouses; Watercolor, Florida's walkability and nods to the natural landscape; and even Bath, England, where design and color are used add unique atmosphere to the streets.
Here, you'll notice home styles and colors are varied to create streetscapes that are full of character and charm. But, occasionally, our world-class architects and town planners utilize repetition to emphasize the curve of a street or the uniqueness of a park. This technique creates special, distinct places around our community.
Here's a sampling of where you can see this design method put to work around Nexton:  
 Parkside Townhomes are coming to life at the entrance of Brighton Park Village. Eventually, they'll line the streets on both sides of the Greeting House, creating a gateway that feels both grand and inviting.
Elbow Park and Porch Park, a couple of our famous "pocket parks," are cozy, relaxed spaces that beg you to walk a little slower, and maybe take a few quiet moments on a park bench.  The homes that frame each are strategically selected to create this sense of place.
Known as the "Three Sisters" due to their similarity, three elegant homes with deep, inviting double stacked porches anchor the west end of Long Meadow Park. Soon, eight gable front houses will frame the park to the North, adding to the sophisticated design aesthetic.
And there's more to come – along Sliver Lawn, six sisters with contrasting accent colors and front-facing gables will create a distinct streetscape. A series of cottages courtyards, much like the Saussy Burbank enclave we introduced in January, will create unique addresses along green spaces and parks. 
At Nexton, we think thoughtful design brings so much more to the table - or should we say, to the street. Our fun, fresh new home community here in Summerville continues to grow, and we're so proud to share it with all of you. Come see.