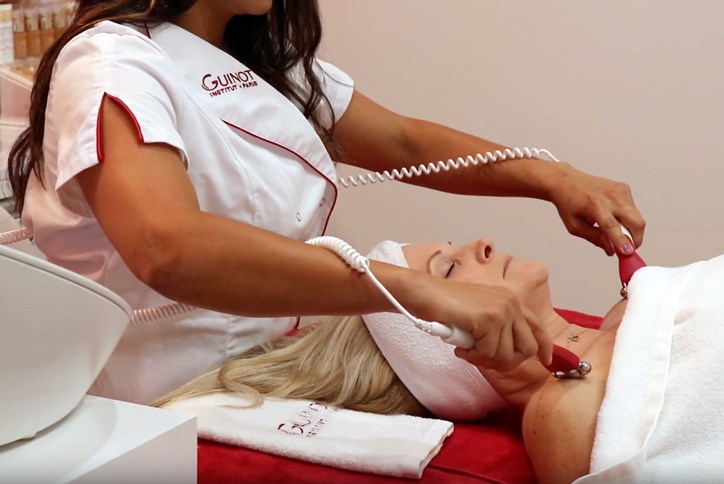 Pamper Yourself at Nexton: Guinot Skincare at Nexton Square
Healthy is always in at Nexton – inside and out! 
We're excited to share more about Guinot, a skincare salon arriving at Nexton Square this summer. Guinot is a skincare industry leader, boasting game-changing technology and techniques and innovative products.
Heads up, francophiles: the brand is France's largest, most popular skin care salon, with a following all across the European continent. We had the pleasure of learning about Guinot from franchisee and general manager Jean Baudrand, as well as Amanda Morris, who will be the Lead Esthetician at the Nexton Square store. From waxing and facials to sunscreen and makeup, the salon is bringing the world's very best to Summerville. Continue reading or watch the video below to learn more!
Love the skin you're in 
Chances are, Guinot's meticulously developed collection of products has something for you. The complete line covers three categories – face, body, and sun. Need to tone and tighten? You got it. The teen in your life have some pesky pimples? They've got something to treat it. Does your hubby need some moisture in his morning routine? Got that, too. Inside the new fresh and friendly retail location you'll find anti-aging, anti-acne, anti-dark spots, suncare, men's products, makeup and much, much more.
Do all the anti's and serums and masks leave you overwhelmed? This is where Guinot gets really good. The staff is expertly trained to help design a treatment plan that works just for you. Just ask.
Treat yourself  
Start your journey to feel-good skin by exploring in-salon treatments like the Beaute Neuve peel, which utilizes fruit acid and Vitamin C for a brightening effect; the Lift Summun for firming and smoothing with long-lasting effects; or the Hydradermie Double Ionization, an internationally recognized, revolutionary skin care treatment that increases radiance and moisturizes the skin. Intrigued? You'll love learning the ins and outs of Guinot's full line of waxing, skincare, and bodycare treatments, all using the world's foremost technologies.
"The staff is amazing. They are trained to help you address targeted skin issues that you have, but also relax you at the same time," Amanda told us.
The synergy between the skincare line and in-salon treatments is where Guinot really shines. The comprehensive model allows the skilled staff to design a plan perfectly suited to you.
Get ready to give yourself a little TLC. Guinot is opening later this summer. See you there!