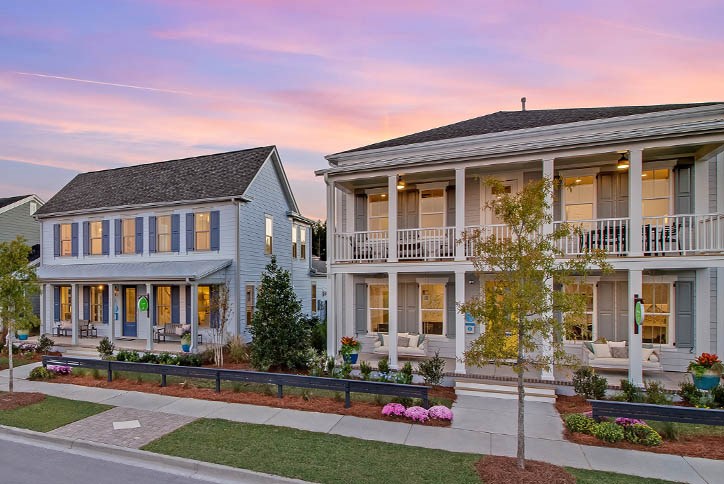 To-be-built or move-in ready: What kind of new construction works for your family?
The number of decisions you'll make before you can settle into your new Nexton home are, well, countless. One of the most significant: build fresh from the ground up or go with a move-in ready home? Whether you revel in each and every exciting decision, or find it all a bit (or a lot!) overwhelming, we're here to make the transition feel a little smoother. Below, some things to consider as you embark on your new-home journey.
DESIGN
If you want something uber-personalized: To-be-built home
Do you have a carefully curated Pinterest board full of tile ideas, paint colors, and flooring? Go with a to-be-built home. All of our Nexton home builders allow – even encourage – home buyers to personalize their floorplan and finishes. So you can have your shiplap walls and white-washed floors. You can paint your man-cave to match your team's colors and source a show-stopping granite for your oversized kitchen island. When you build at Nexton, you get to choose every dovetail and detail.
If decision fatigue has already set in: Move-in ready
Did the above paragraph exhausted you, even a little? Consider a move-in ready home. Our builders have inhouse designers who thoughtfully select finishes and functions for move-in ready homes (also known as "spec" or "pre-sale" homes in the real estate world). So you can have a stylishly appointed new construction home without the challenges that come with starting from the ground up.
TIMELINE
You're not in a rush: To-be-built home
Is your home search timeline more casual than quick? Perhaps you have time to build something completely new! To-be-built homes take between 4 and 8 months to complete, depending on your home and builder. If you've planned ahead – or don't have a particular timeline at all – this might be the right route for you!
If your timeline is short: Move-in ready
A move-in ready home is just what it says: ready for move-in! The completed home your tour before signing a contract is the home you'll be moving your furniture into upon closing. If all your ducks are in a row, you could close on your new home 30 days from signing the contract. So if a new school year is quickly approaching, your new job wants you ASAP, or your previous home already has new buyers… a move-in ready home at Nexton might be calling your name!
BUDGET
You have a flexible budget: To-be-built home
While it's entirely possible to keep your costs fixed and minimal with a to-be-built home, you may see it as an opportunity to get exactly what you want in your new home. And all the bells and whistles naturally come with a larger price tag – think extensive trim work vs. the standard, a screened-in porch vs. patio, customized floorplan vs. off-the-shelf, chef's kitchen vs. something more basic. But the heart wants what the heart wants, and if you've saved up to make your dream home happen, our builders would love to help!
You want to keep the budget tight: Move-in ready
Straight talk: financing a move-in ready home is a little more straightforward – no hidden costs or last-minute design additions. So if cost is among biggest concerns, sticking to a move-in ready home can keep you from exceeding your predetermined budget and simplify financing.
What's important to you?
Whether a to-be-built home or a move-in ready home is right for you, we know for sure Nexton is the right community. Parks, trails, schools, shopping and dining, eight fabulous builders…it's all here! Come explore Nexton today.