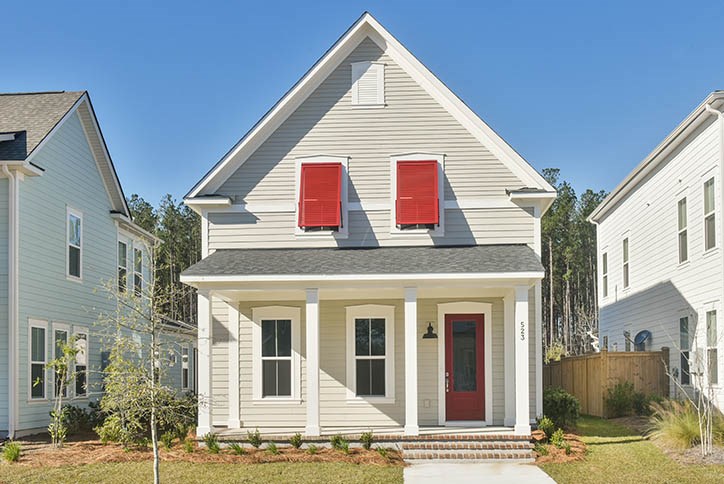 Yes, you can buy a home online
Ask your parents (or grandparents) about their first home buying experience 50 or so years ago, and you're likely to hear some interesting anecdotes – some familiar, some entirely foreign.
Like you, it's likely that they used a real estate agent to facilitate the purchase of their new home.
It's unlikely – maybe even impossible – that they first saw the home via a 3D tour from the comfort of their sofa.
In fact, according to House Wire, only 2% of prospective buyers utilized the internet in the home search in 1995.
Today, you can (quite literally) buy a new home from start to finish entirely online. Here's how:
Get the big picture. For new construction like Nexton, you'll start with a community representative (Hi Bo, Alicia, and Barbara!) to learn about the community – lifestyle, home options, neighborhoods, amenities, and more. This is the best time to narrow down your builder options. Let your new home buying BFF know what kind of space, floorplan, and budget you're working with.
Meet the builders. Set e-appointments with a few builders to further understand how far your budget will go, how long it takes to get into a new home (move-in quick or build from the ground up?), and share your new-home-must-haves. At this point you can browse through 3D Virtual Tours, home listings, and photos to get a sense of the various floorplans.
Get a look. Ask your builder for a video tour of the home (or homes) you have your eye on. Or schedule a visit in person – you can even have the builder leave the home unlocked and unoccupied to keep to social distancing standards.
Make a choice. Spacious or space-saving? Two floors or one? It's time to pick your dream home.
More choices! Tap into technologies like Zoom, Facetime, and even Facebook Live to discuss pricing, options, and financing. This kind of face-to-digital-face will help build camaraderie with your builder rep and lenders, and get to a solution everyone is comfortable with.
Write a contract online. Softwares like DocuSign allow buyers to digitally sign legal documents, eliminating unnecessary in-person meetings, and keep everyone on track for your big move.
Design selections. This is where it gets really fun! Tiles, flooring, paint colors and more can be explored digitally in a plethora of ways. Make an inspiration board on Pinterest and share it with your builder. Ask for videos and photos of cabinetry and paint colors in already-completed homes. Your design appointment can happen 100% virtually!
Weekly video calls. Once construction begins, plan weekly video calls with your builder to discuss and see progress.
Virtual or drive-through closing. Sign those papers with your keyboard! Lenders are happy to work with you and the builder to complete the process quickly and efficiently.
Move in. And you're in! That's it! Walk into a fresh, new, just-for-you home.
If you've chosen a move-in ready home, the process can be even quicker and easier.
If you need to move now (or want to take advantage of historically low interest rates), we're ready to help you navigate the process safely and easily. Reach out. We're ready when you are.