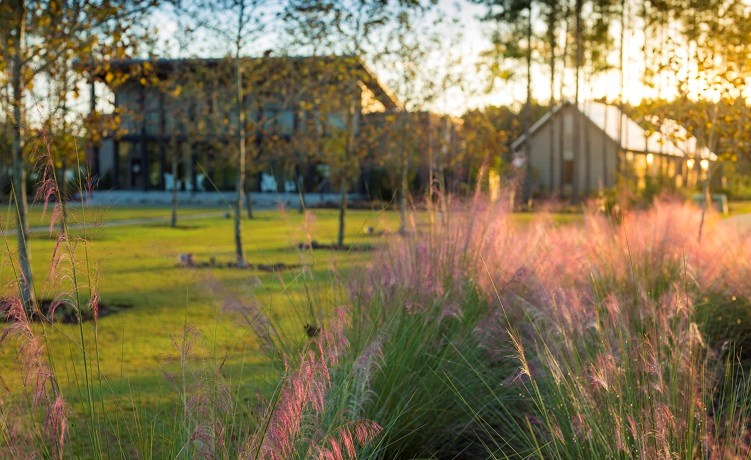 Brighton Park Village, a rare neighborhood well done
This doesn't happen every day. The chance to have a new home in a beautifully established neighborhood, that is. A place where the trees are getting tall, the neighborhood school is in session, and the swimming pool is ready and just waiting for summer. And yet, that's exactly what you have in Brighton Park Village. Below, some of the reasons to choose our very first neighborhood for your next home.
Walkability – and places to go
Perhaps our favorite reason to explore Nexton's most established neighborhood for your new home is not just its walkability – but the destinations you can actually reach. Within Brighton Park Village, you can stroll to the pool and at least half a dozen parks in a matter of minutes.
You could even walk to work. Head one way down Brighton Park into the heart of Nexton's Front Street District, where office tenants like SCRA, SunTrust, Aeterna Zentaris, and Palmetto Primary Care are located. On your way, you'll pass WorkPlace@Nexton, a garden-style office park that will be full of new employers by this fall. Of course, just across the way is Nexton Square, where hundreds of talented folks are working at places like Carolina Periodontics, Lighthouse Wealth Advisors, and Halls Chophouse.
If you walk the opposite direction down BPV Boulevard, you hit CoOp@Nexton, an emerging commercial corridor that will function as an office and retail center anchored by high-profile companies like Home Telecom.
Of course, outside of office hours, homeowners at Brighton Park Village also love using the trail network to walk and bike to green spots like Brown Family Park, run errands at Nexton Square, and grab a cup o' joe at Starbucks.
Mature landscaping
We're lucky that our nearly year-round great weather allows trees, shrubs, and landscaping to grow fast and lush. In a spot like Brighton Park Village, you'll find that just five years of maturation has allowed the landscape to really take shape. Wander around the Great Lawn enjoying shade from the growing trees, thick canopied and thriving. Established azaleas dot the community with vibrant pinks and reds come spring, sweetgrass bursts into feather pink bloom each fall, and evergreens grow taller and more majestic each year.
Sense of community
Admittedly, Brighton Park Village has always created a strong sense of connection and community among homeowners and residents, but after five years of Bunco games and book clubs and pick-up games of kickball on the Great Lawn, friendships have thrived. Kids have grown. And Brighton Park friends have started to feel like family.
Like what you're reading? Right now Brighton Park still offers plenty of choices: both home styles and home sites. But it won't be long before all the new has turned into the gracefully mature. So don't delay – come find your next home in our very first community today!