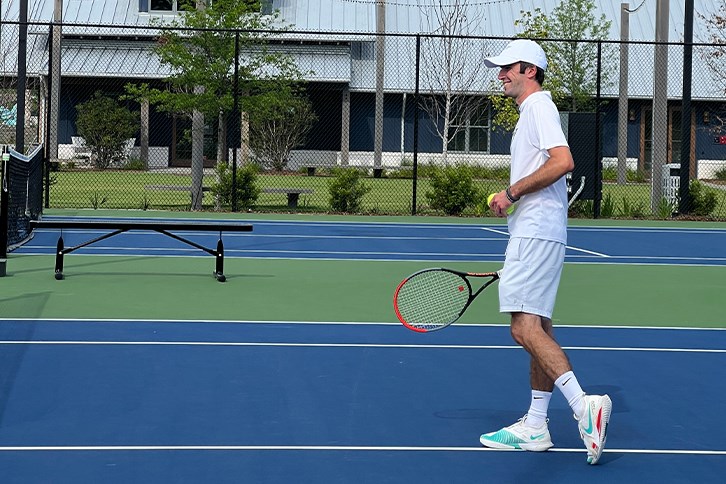 PLAY and Learn: Tennis and Pickleball lessons at Nexton
At Nexton, we like to mix a little bit of play with our learning. Enter PLAY Tennis Academy, Nexton Residential Association's official partner for pickleball and tennis lessons. A few Saturdays ago, they hosted an open house at Midtown Club's brand new pickleball and tennis courts, and we can confidently say that Nextonites are hooked. 
What's this PLAY Tennis Academy all about?
Founded by Ryan Harry, PLAY Tennis Academy brings pickleball and tennis lessons for all ages directly into the communities where people live. So you can stroll, bicycle, or scooter over to Midtown Club and meet with your instructor for a private or group lesson. Convenient, fun, and healthy - all the things we love at Nexton.
For Ryan, the PLAY Tennis Academy allows him to scale-up his passion for teaching tennis and offer an affordable, convenient avenue for sharing the sport with others.
"I've always loved tennis because there's no roof to growth. There's always something to learn, something to improve upon," Ryan told us. "Plus, I love the connection that comes with teaching others." 
And pickleball? 
"Pickleball is great for young and old, those that have exceptional athletic ability or limited mobility," he explained. "And it's easy to learn. People can start playing in about 5 minutes." 
If the fanfare around last year's announcement of The Pickle Bar is any indication, our pickleball courts are going to a very popular place. "The pickleball community is extremely welcoming and friendly," Ryan shared. No wonder it's the fastest growing sport in America! 
Meet Nexton's official pickleball pro: Dan Levine
Ryan's home base is Florida, so he's tapped Dan Levine, a IPTPA (International Pickleball Teaching Professional Association) Certified Level II Pro, as Nexton's official pickleball pro.
"I love watching people have fun on the court," Dan told us. "I've taught 10 year olds and 90 year olds. It's a social game that you can enjoy your entire life." 
Despite Pickleball's ease of entry, Pickleball is still a fabulous workout. "It's very good cardio! And it allows you to let out some stress, meet new people, and create a community," Dan explained.
If you came here to read about the tennis lessons in particular, don't worry. It's coming. PLAY Tennis Academy is currently searching for the perfect instructor for Nexton. 
Let's PLAY, Nexton!
Home is your playground. That's PLAY Tennis Academy's official slogan, which we think is just about perfect for a Nexton partner! 
"We want to enhance Nexton by offering something the community will really enjoy while providing top-level instruction," Ryan said. "We're thrilled to be here!" 
We're excited, too, Ryan! If you live in Brighton Park Village, Midtown, or Del Webb Nexton, you can sign up for group or private lessons with PLAY Tennis Academy. Reach out to the POA for pricing and schedules. 
Don't live here…yet? Get started on your Nexton journey today.