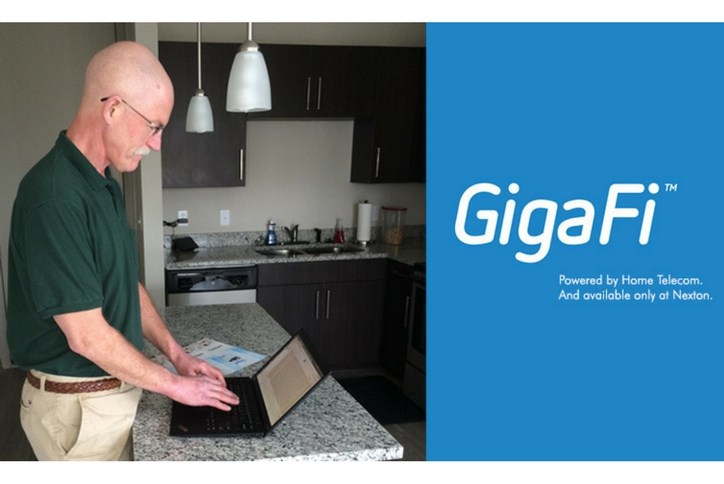 Super Fast Internet: Your Passport to the World
Is super-fast internet really that important?
It may not seem like Internet speed is that pivotal to your life, so allow me to paint a picture for you.
Close your eyes and try to fathom a world without smooth Netflix or YouTube streaming or instant Instagram uploads. Imagine if your children were unable to access League of Legends or your connection couldn't keep up with their little fingers. Attempt to visualize every single day devoid of swift Facebook shares or timely Twitter tweets.
You can't, right?
Living a life with slow Internet would be like retreating back to the Dark Ages. It's your passport to the world. It's your gateway to everything the world has to offer. It's what allows you to see the globe without ever leaving home.
Your Internet connection is truly one of the most important decisions you may make when you're considering a move to a new home or apartment. Nexton has done the homework for you and provides a technology experience second to none - GigaFi.
Home Telecom, one of South Carolina's leading providers of information and communications products and services, powers GigaFi with a 100% fiber network. A direct fiber connection is run to every single family home and apartment in Nexton, delivering gigabit speeds today and capable of what ever speeds the future will bring. A gigabit Internet connection is nearly 100 times faster than the average US connection. 

Fiber to the home = increased value
Though there are many benefits to fiber service, only 1 of 5 American households has access to fiber to their home and only 3% have access to Gigabit Internet service. Research has proven that there is a $5,000-$6,000 increased value of a $300,000 home if it is serviced by fiber-to-the-home. With fiber, there are no large green boxes throughout the community that you have to try to hide. Fiber pedestals are completely flush with the grass, so you can keep your front yards looking great and free of clutter.
Advances in technology mean it's more important than ever to make sure the wiring and connections in your home are capable of delivering modern telecommunications. In today's residential market, every new home built without an internal wiring network could be viewed as 'immediately obsolete.' 

Wired connections are here to stay
But, you may ask, is wiring still important in today's wireless world? The simple answer is - YES! A wired connection can theoretically offer up to 10 Gbps! A wired connection is guaranteed to be faster, more stable and more reliable than a wireless connection. While you probably won't be connecting an Ethernet cable to your Smartphone any time soon, this matters when watching Netflix on your smart TV or uploading large work files from your computer.
Wired connections make cloud back-up and large file transfers as fast as checking an email and HD streaming as smooth as visiting your favorite website. But, connection quality isn't just about bandwidth. Response time is also a big factor. For those playing online games and needing reaction time to be as quick as possible, a wired connection is going to have much less delay than a wireless connection giving you the advantage over your competition.
Luckily, Home Telecom is currently wiring for all builders in Nexton using only Cat 6 wiring - the highest industry standard for wired devices. There is no coax in any home or apartment in Nexton. Every home has a Central Point of Connection (CPC) that connects every gadget in your home from laptops to video game consoles, iPads and Smartphones to each other and the Internet. The CPC is located on an interior wall centrally located for Wi-Fi performance. Wiring with CAT6 to all TV, phone and data locations assure the technology of today and for years to come will be available without costly adapters or converters.

Get GigaFi at your home at Nexton:
Ask your builder to notify Home Telecom which home you have selected. You will receive GigaFi wiring options approved by your builder then one of our GigaFi team members will meet with you to review your wiring and service options and most importantly, the locations of your services. You will also be given home integration add-on options, such as surround sound to complement your HD television, and HomeSmart home automation options.

//Gina Shuler, Home Telecom
---
Home Telecom is the only local telecom company capable of delivering all aspects of the Nexton Technology Plan. We provide every step of the GigaFi experience - from the fiber infrastructure in the ground, to the wiring inside your home necessary to utilize the advanced GigaFi services, to your dedicated GigaFi sales representative, and our local technician installing your service - if you have any problems along the way you only have one phone call to make.
Home Telecom is a local company with over a century of history in the communities we serve. "Be the BEST" and "Easy-To-Do-Business-With" describe the Home Telecom commitment to globally connect our local communities by providing expert innovation and quality customer service. In a Home Telecom customer satisfaction survey conducted in August 2015, 94% of their customers agree Home Telecom is 'easy to do business with.'