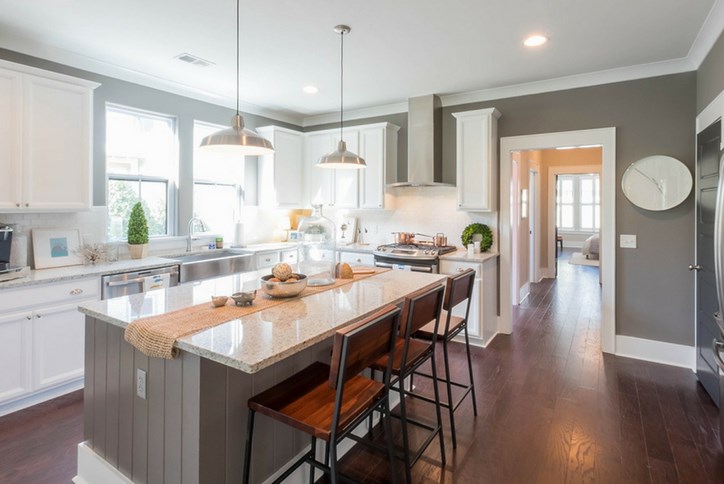 Trending Up - what's hot in interior design
It's no secret that we're big on design here at Nexton. You can see signs of it pretty much anywhere you go - from the streetscapes to the homes to the landscaping. Every little detail at Nexton has been thoroughly considered, down to the mailboxes. That's because we think life is made easier, more joyful, and even more healthful by thoughtful design.


So we're thinking… why not bring a little of that design-mentality into the homes at Nexton? We've rounded up a list of popular home design trends that we think will make your homes more lovely and more livable.

Shaker style cabinets are a truly classic look for any kitchen - traditional or contemporary. The clean lines work well on both drawers and cabinet doors, and the style comes in a variety of finishes. Go with painted white shaker cabinets for a bright, fresh look, or choose a stain that emphasizes the natural grain of the wood. Subtle colors like warm grays and understated blues are popular in cabinetry now, too. You could even mix it up and go for a trendy two-tone kitchen, or try a fun accent color on the island! Whatever your color preference, a shaker cabinet is a classic choice.

Barn Doors aren't just for the farm anymore - they're one of the most sought-after features for homes of all styles. Whether you want an attention-grabbing entry, a space-saving solution, or an attractive way to divide rooms, the sliding barn door is sure to add instant interest to your home. As an added bonus, it's common to utilize reclaimed wood for this design feature! #GoGreen

Tankless water heaters heat water directly without the use of a bulky storage tank. When a hot water tap is turned on, cold water travels through a pipe into the unit. Either a gas burner or an electric element heats the water. As a result, tankless water heaters deliver a constant supply of hot water, crucial for a steamy post-workout shower!

Frameless Shower Doors are becoming increasingly popular across the country as families are choosing to nix hard-to-clean metal frames. Modern technology has made the frameless concept a safe, attractive option. Tempered glass is fixed to the wall, simply hung from above or installed on the floor without any frames or hinges. It's a sleek, seamless look.

Pendant Lighting Most frequently seen over an island workspace, pendant lights are as striking as they are practical. The clean and timeless look adds a wow factor to any kitchen, combining the best of form and function. Pendant lights can be hung in a series or as a single light fixture, and design variations are abundant.

Quartz Countertops have become a popular alternative to granite. More durable and long-lasting, quartz is one of the hardest materials in the world, as well as stain and heat resistant, making it a viable choice for a kitchen countertop. Because quartz countertops are manufactured, the color and pattern possibilities are limitless, including varieties that are almost identical to granite or marble if you're looking for a more natural look.

Subway Tile This classic feature dates back to New York City's subterranean train stations in the early 1900s when it captured the public's eye and became popular for bathroom and kitchen floors of prewar houses. So why is this trending now? Backsplashes are big! While subway tiles have been used in commercial kitchens for decades, many homeowners have recently chosen the efficient and stylish tile for the classic and understated look.

The most important design trend of them all? Filling your home with features that express your personal style. That give you more time (and space) with family and friends. That make you truly happy to call your house home.

All of these design trends - and more - are available from our builder partners. Visit today to learn about making a house at Nexton home. Don't forget to stop by the Front Porch Info Studio to get an overview of the community, and learn about what makes Nexton the regions Best Master Planned Community!